16 Celeb Couples Who Fell In Love On Set
It is not uncommon for Hollywood stars to find love in the workplace. The on-screen chemistry between two actors can easily turn fictional love stories into the real thing, as the actors on this list have proven. While it is true that some of these love connections have faded, many continue going strong. From sparks flying between Liam and Miley on the set of The Last Song to couples like Blake and Ryan who realized there were fireworks once the cameras stopped rolling, scroll below to check out 16 couples whose love began on film and TV show sets.
1. Ashton Kutcher and Mila Kunis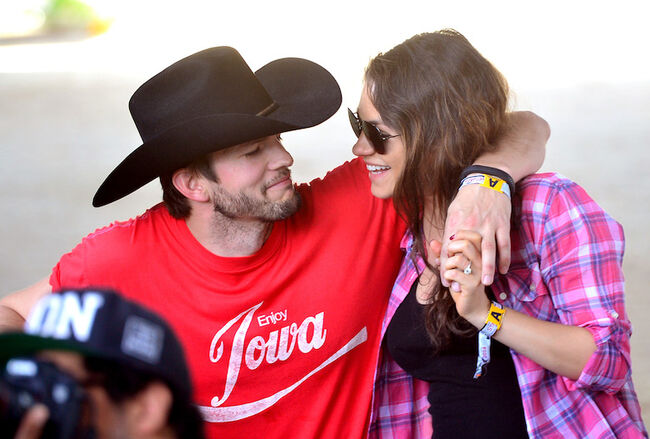 Kunis was only 14 when she meet Kutcher on the set of That 70's Show back in 1998, but claimed they had no feelings for each other at the time. The two even performed an intimate kissing scene, but apparently no sparks flew. They did not begin dating until 2012 and less than three years later they were married and now have two kids. The couple is still together and recently turned down rumors they were splitting up. This is one relationship that is still young in years, but everything looks smooth between Kutcher and Kunis at the moment.
2. Kit Harington and Rose Leslie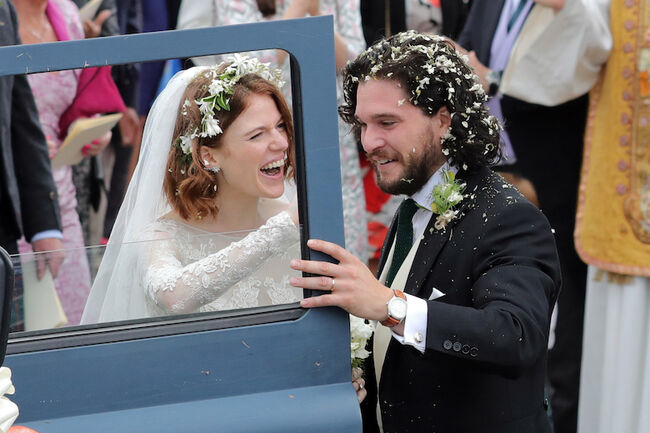 Harington and Leslie met on the set of Game of Thrones and experienced intimacy right off the bat. Their characters, Jon Snow and Ygritte, respectively, were love interests from seasons two to four, so the couple spent plenty of scenes in each other's company. Harington expressed that they fell in love while on the show, but they did a great job of covering it up initially so it would not become a public topic of discussion. The two officially tied the knot in 2017 and have been happily married ever since. Leslie and Harington are still going strong post-Thrones and are forever grateful they met through the TV show.
3. Brad Pitt and Angelina Jolie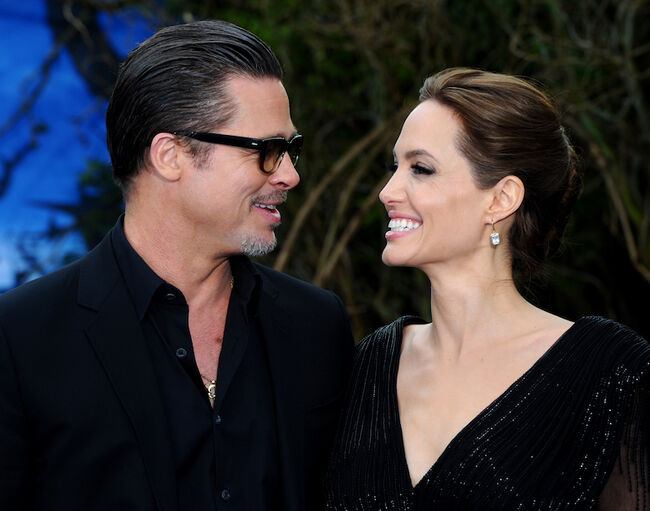 Jolie and Pitt represent one of the most famous celebrity couples ever, and it was shocking that they eventually split up in December of 2016. The two met on the set of spy-classic Mr. & Ms. Smith in 2003, and eventually the two became romantically involved around 2005, when they were seen on vacation together. Jolie gave birth to her and Pitt's first child in May 2006. It was not until 2014 that the couple was officially married, but Jolie filed for divorce only two years later as they began to grow apart. Jolie and Pitt have gone through a custody battle over their six children since the divorce, but Pitt has maintained a visitation schedule that allows him to spend time with the kids. This relationship went from powerful to failing real quick, but we will never forget the celeb couple that were Brad and Angelina.
4. Will Smith and Jada Pinkett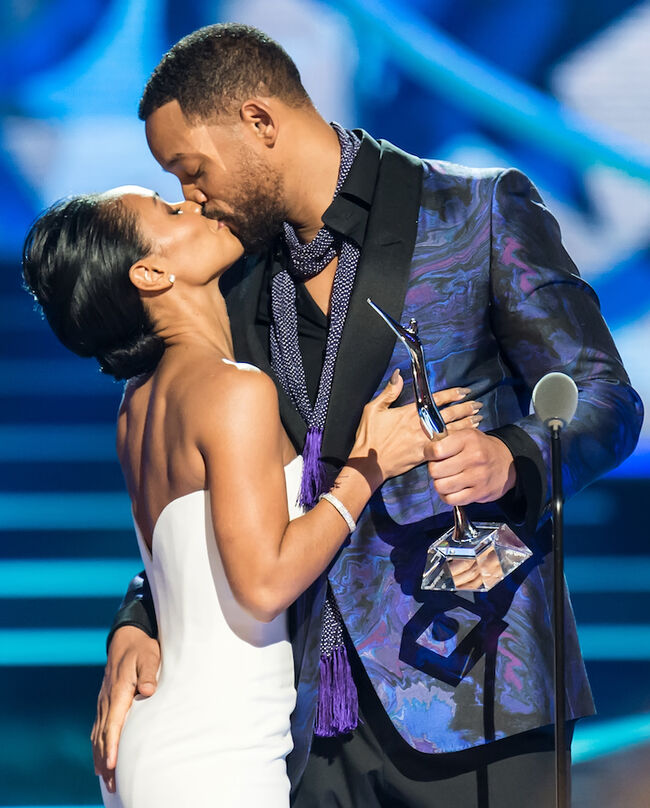 The twenty-one year marriage of these two Hollywood superstars has really stood the test of time. Will and Jada Pinkett-Smith have remained a lasting power couple. The two met when Jada auditioned for The Fresh Prince of Bel-Air in 1997, and it's quite ironic that she did not get the part of Will's girlfriend, since they became real-life love interests soon after. Will and Jada started dating in 1995 and then got married soon after in '97, with their son, Jaden being born in '98. In 2013, Jada had to deny rumors that they were in an open relationship, and in 2015 they publicly commented that their marriage was "rock solid". Will nowadays refers to Jada as his "life partner" beyond just being a wife, and their relationship is still fresh as ever.
5. Penelope Cruz and Javier Bardem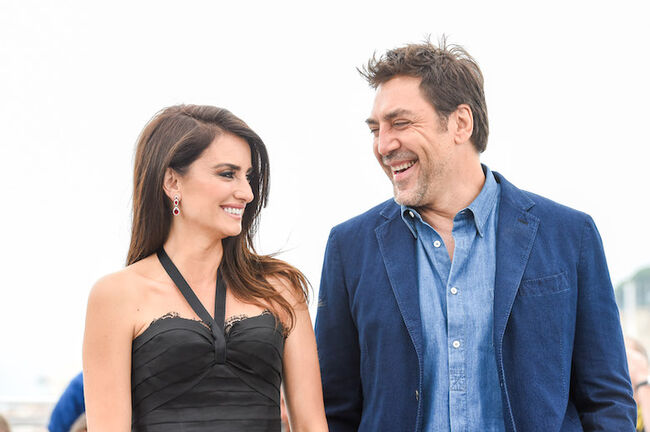 Cruz and Bardem initially met back in 1992 while filming Jamon Jamon, a Spanish comedy-drama, but did not fall in love until they were back together to film in 2007. The two reunited on the set of Vicky Christina Barcelona, but did not make a public appearance as a couple until the Goya Awards in 2010. Cruz has commented on the privacy of the relationship, and the couple went through with a private wedding in 2010. The duo now have two kids together and are happy to continue their relationship off-screen, proving this on-set love story is holding on.
6. Gwen Stefani and Blake Shelton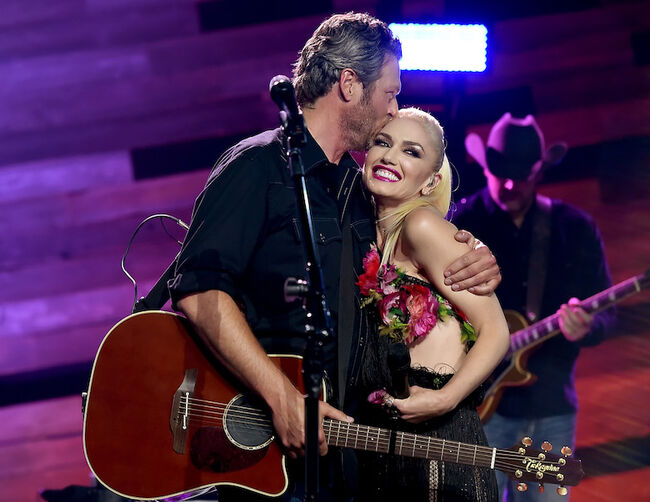 The Voice does more than just find singers apparently, since it brought Stefani and Shelton together in 2014. Even when the two were in their previous relationships during 2014 and 2015, Stefani had no shortage of selfies with Shelton on her Instagram, potentially illustrating the first signs of her affection towards him. In November 2015, their romance became public, and the two even credited their divorces for bringing them closer together at the time. Stefani and Shelton are still very much into each other and now appear at all events together, although Stefani has hinted that she really wants Blake to put a ring on it.
7. Ben Affleck and Jennifer Garner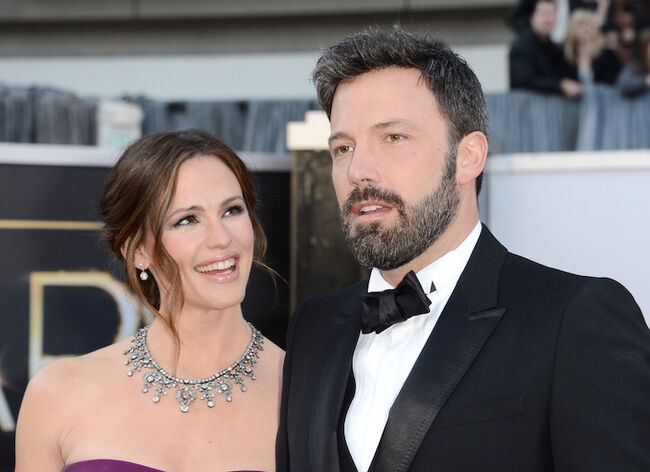 Affleck met Garner on set during the filming of Pearl Harbor back in 2000, and they reunited shortly after in 2002 on the set of Daredevil. Despite being in relationships during that time, Affleck claims their affection grew during the filming for Daredevil, and this led to them getting publicly together in 2004, after Affleck called off his engagement with J-Lo and Garner divorced from Scott Foley. Affleck and Garner were privately married in 2005, and later that year Garner gave birth to a baby girl named Violet. After an incident in which Affleck and the family's nanny, Christine Ouzounian headed to Vegas together became public in 2015, Ben and Garner split quickly after, although Ben denies having been romantically involved with Ouzounian. It took awhile, but their divorce was finalized in 2018, and the two moved on for good.
8. Miley Cyrus and Liam Hemsworth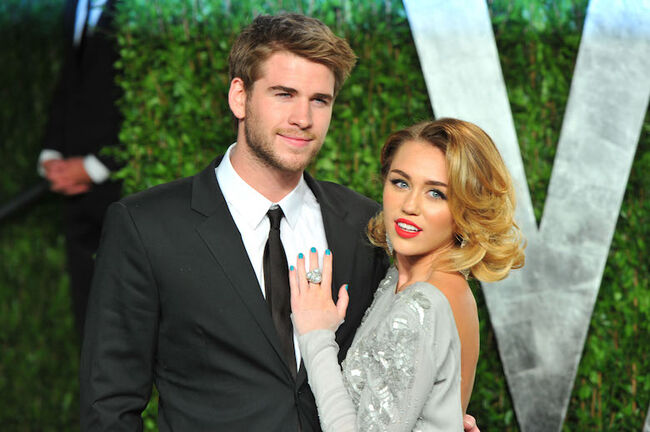 When the two met on the set of The Last Song in 2008, Miley was still portraying Hannah Montana and Hemsworth was still a rising actor. However, that didn't stop them from being intimate right away. They started publicly posing as a couple as early as 2010 and in June 2012, Cyrus and Hemsworth became engaged for the first time. In late 2013, the engagement was called off and Miley started seeing Patrick Schwarzenegger soon after. In 2016, Miley was spotted wearing the old engagement ring, hinting she was back with Liam after nearly three years apart. Finally, the two got married during a secret wedding in Nashville in December 2018. Although it was a rocky road, the relationship overcame a wrecking ball and the celebrity couple is rolling along.
9. Ryan Gosling and Eva Mendes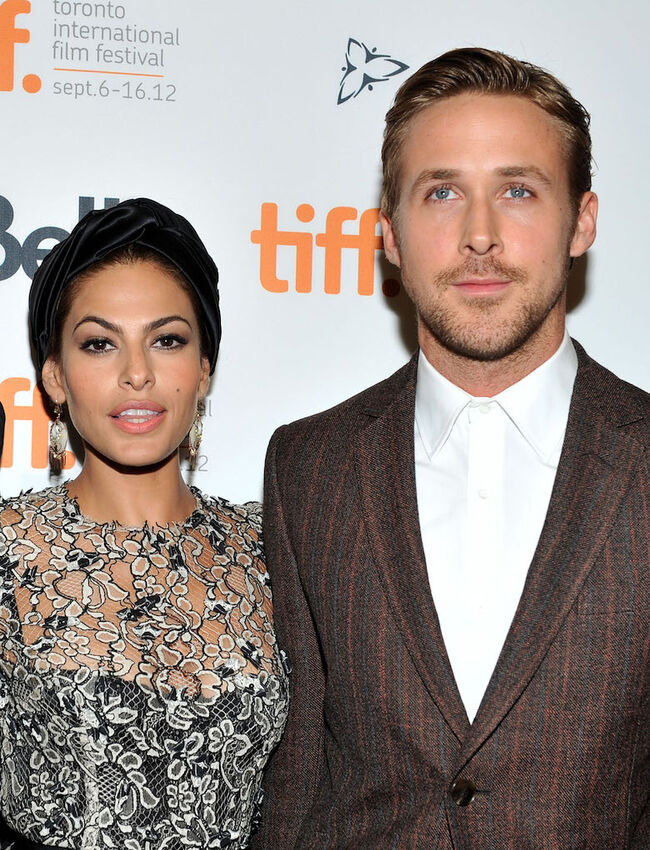 Gosling and Mendes linked up through The Place Beyond the Pines in 2011, in which they were co-stars. The two quickly built a romantic relationship and were spotted holding hands almost everywhere they went, which helped spoil a rumor that they had broken up in May of 2012. In September 2014, the couple had their first daughter, Esmeralda. They welcomed a second daughter in 2016 and are still happily together.
10. Emma Stone and Andrew Garfield
The duo first fell for each other in 2010 on the set of The Amazing Spider-Man, where they shared many intimate moments as love interests in the film. They broke up with their significant others the following year, and publicly revealed their relationship on the red carpet of the Teen Choice Awards in 2012. The two were visibly in love and attended several events together, including the Met Gala in 2014. However, it is believed they broke up in October 2015.
11. Daniel Craig & Rachel Weisz
Les Grandes Horizotales was the play in which they first met back in 1994, enabling them to develop a friendship following a plethora of shared moments on and off set. In 2010, they reunited on the set of Dream House and quickly fell in love, leading to their private wedding in June of 2011. The two remain together. In 2018, Weisz gave birth to a daughter, who joined the children they both have from previous marriages.
12. Channing Tatum & Jenna Dewan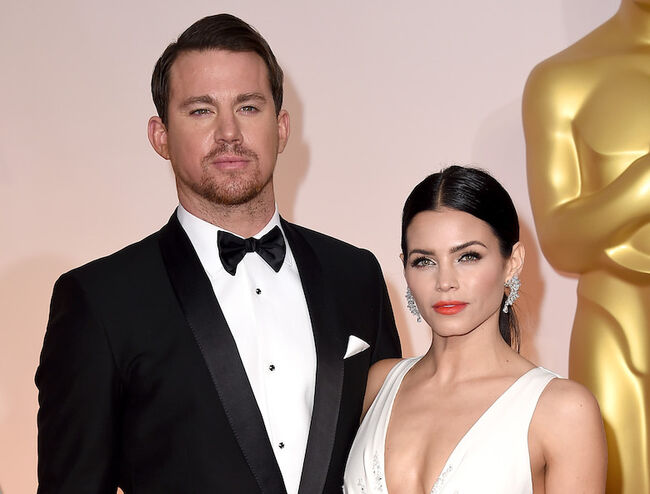 Channing and Jenna met on the set of Step Up in 2006, where they played the lead roles and became close with each other. By August of that year, the couple went public with their realtionship and began to make plenty of appearances at premieres and parties. They became engaged in September of 2008, and then had a majestic wedding in Malibu in July 2009. The couple continued to appear at all the biggest events together after their wedding, including the Golden Globes and the premiere of 21 Jump Street. The two welcomed daughter, Everly, in June 2013, but eventually separated in April 2018 much to the disappointment of many fans across the world.
13. Kelly Ripa and Mark Consuelos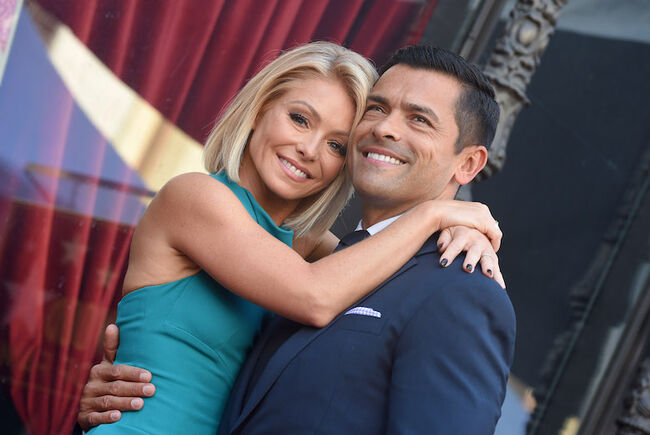 Consuelos auditioned for a part in All My Children in 1995. Kelly, assigned to be his screen test partner, was instantly drawn to him. The two quickly fell for each other and went through some ups and downs right away, but got married in May1996, quite a quick path to tying the knot. In June 1997, Kelly gave birth to their son, Michael, who would be the oldest of three children between the couple. Their relationship became even stronger over time and they still "obsess" over each other nowadays, even as they embark on their own projects. Kelly and Mark's story truly resembles love at first sight.
14. Kristen Stewart and Rob Pattinson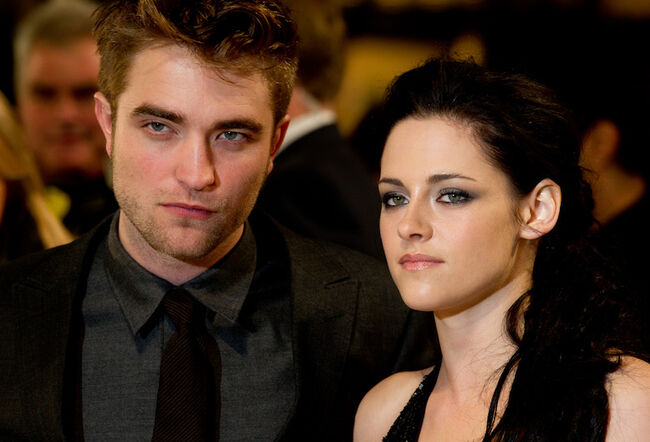 Stewart vouched for Pattinson to land the role of Edward in Twilight after they met on set in 2008, and soon they began to develop a powerful chemistry while filming. The two reportedly messed around and were rumored to be romantically involved for a few years, however, they were not confirmed to be dating until 2010. In 2012, Stewart was caught having an affair with Rupert Saunders, director of Snow White and the Huntsman, and subsequently issued a public apology, acknowledge her wrongdoing. After the incident, Pattinson and Stewart continued their relationship, but eventually spit sometime in 2013. Bella and Edward were a joy on screen and will be timeless in that fashion, but their relationship offscreen is now a thing of the past.
15. Bradley Cooper and Zoe Saldana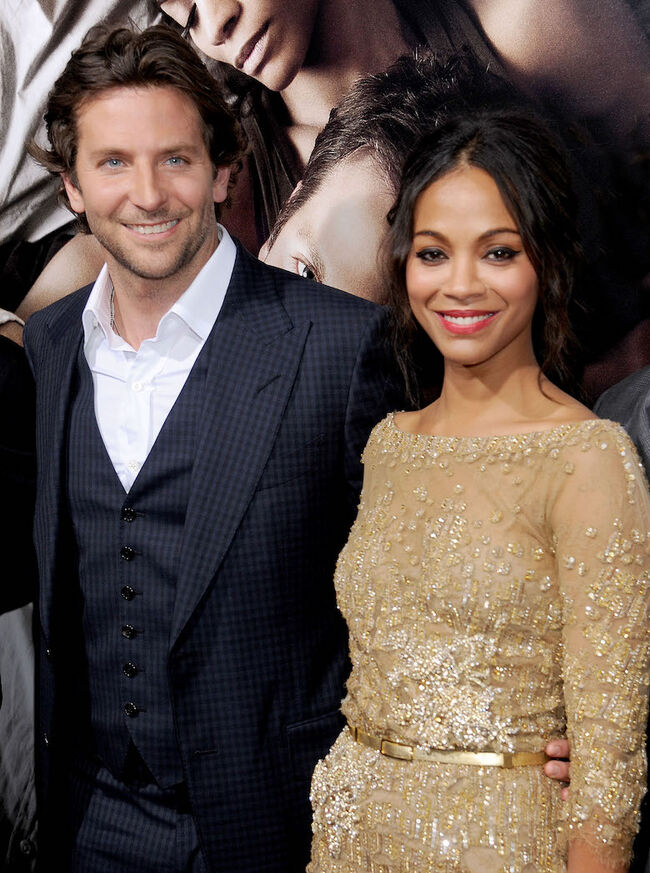 Saldana and Cooper met on the set of The Words in 2011, and the two instantly clicked. At first, they did their best to keep the relationship a secret, but their affection was too obvious to keep private for too long. The relationship was reportedly "on-and-off," and Saldana and Cooper's romance was very appealing to paparazzi around the world. Despite their passionate love, their relationship came to an end in January of 2013. Soon after, Cooper began dating model Irina Shayk soon after. While Zoe and Bradley did not last for very long, it did prove that love can build on filming sets and revealed Cooper's ability to develop affection rather quickly. Could this past relationship be a sign that Cooper and Gaga's chemistry is more than meets the eye?
16. Blake Lively and Ryan Reynolds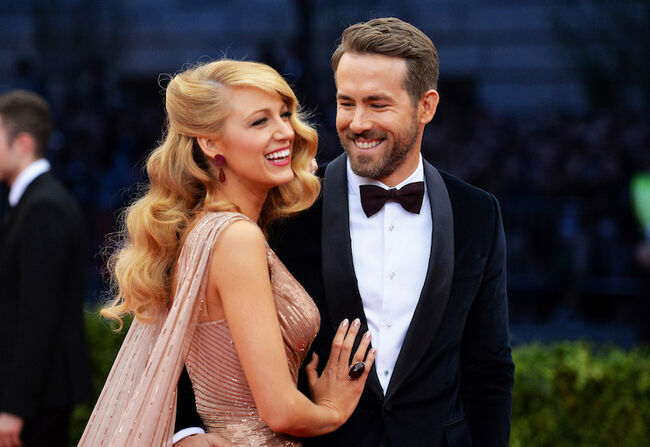 The couple met on the set of Green Lantern, where the two played love interests. While they did not date immediately (as they were both in relationships), the duo were close friends for over a year. They even went on a double date together — only, they both brought other people! A year later, they were married and now have two adorable children together, James and Inez. The couple recently announced that they are expecting their third child.
Photos: Getty Images